Israel is for us one of the most fascinating countries we have ever visited. During our round trip through the country we have explored many special places. The country is diverse, adventurous and incredibly beautiful. You should definitely take a trip to Tel Aviv and Jerusalem, swim in the Dead Sea, explore the vast Negev Desert and explore the Red Sea around Eilat. Are you currently planning your trip to Israel? Then our top Israel places to visit are sure to come in handy. Have fun reading and browsing!
---
---
Must places to visit in Israel
In the following map we have linked the must places to visit in Israel. If you are traveling to this country for only 7 to 10 days, you should focus on a few spots and not try to see all these places during one trip. We definitely want to travel to Israel again soon to explore more areas. Let's see when traveling to Israel will be possible again without any problems.
---
---
1. Highlights in Tel Aviv
Tel Aviv! What a city! No other city in Israel is so colorful, young and bold. We felt at home from the very first beginning. For us, Tel Aviv was a kind of "Santa Barbara" of the Middle East. We especially liked the beaches, the crystal clear sea, the promenade, the food and the beautiful stores and markets. You simply have to experience Tel Aviv.
Don't miss the flea market in Old Jaffa. Ride your bike through Hayarkon Park, chill at the harbor and order some delicious food. Visit the young neighborhoods of Neve Zedek & Florentin, stroll through the Tel Aviv Museum of Art and enjoy the sunset or sunrise at the beach.
---
---
2. Faszination Jerusalem
Shalom Jerusalem! We have never been so fascinated by a city as we are by Jerusalem. It is a stark contrast to Tel Aviv. Jerusalem is very conservative and "well-behaved". But the city has so much to offer. Since several religions are at home here, there are accordingly many great sights. Starting with the fascinating Old City, where the Wailing Wall, the Church of the Holy Sepulchre, the colorful souks, churches, bazaars and much more can be admired.
Outside the Old City is also the Temple Mount with mosque and Dome of the Rock. The Mount of Olives is also worth a visit. In addition, numerous museums and galleries await you, such as the Holocaust Museum "Yad Vashem". Jerusalem is full of contrasts and adventure – here a big dream came true for us. You can read more about it in our Jerusalem Guide.
---
RECOMMENDATION CREDIT CARD
For your journeys we recommend a free travel credit card. With this card you can book your rental car or hotel, withdraw and pay money on site.
⬇ Secure the free credit card ⬇

» Best Credit Card here «
---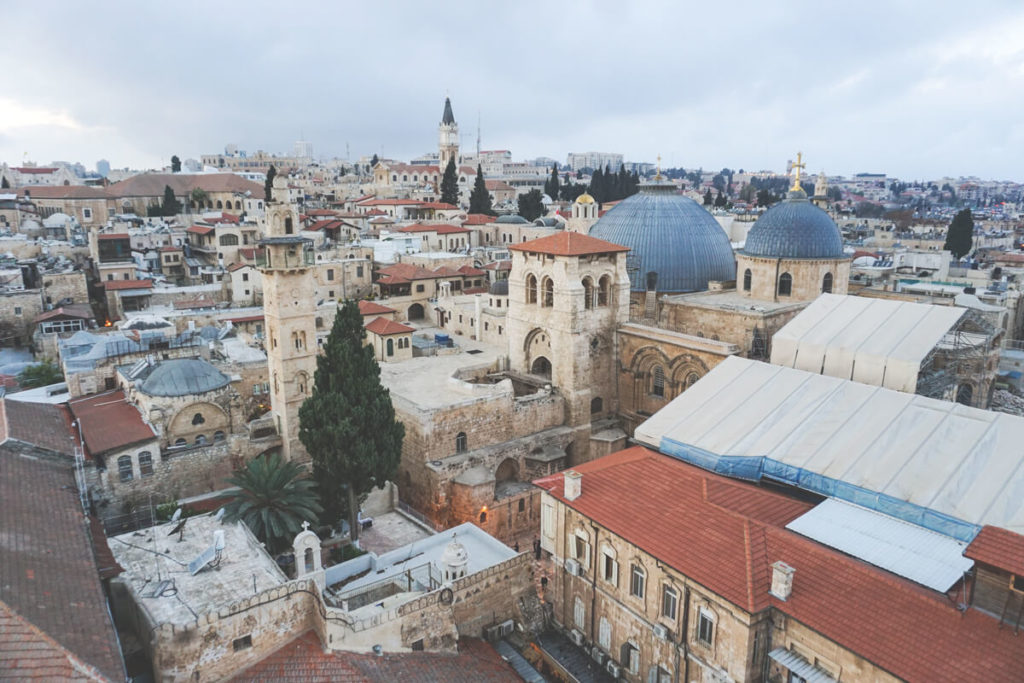 ---
3. The Dead Sea in Israel
If you travel through Israel, a side trip to the Dead Sea should not be missed. From Jerusalem it is only about 2 hours by car. The country is generally very small, so you can make a really varied round trip in one week. Already the arrival is a real feast for the eyes. Before you reach En Bokek and En Gedi, you get to beautiful viewpoints with views over the Dead Sea and on to Jordan.
---
---
In the seaside resort of En Bokek you can then jump into the very salty water. There are also showers and restaurants. The Dead Sea is one of the lowest accessible places in the world with -400 meters below zero. The salt content is 33%. For comparison, the Mediterranean Sea has a salt content of 3.8%. So you can imagine how salty the Dead Sea is. In the water itself you feel like a buoy that just can't sink. Try it out for yourself and be surprised.
---
---
4. The beautiful Red Canyon in Israel
Only 25 minutes away from Eilat you can explore the small Red Canyon. Already the journey to go there is scenically beautiful. It is barren, dry and resembles a lunar landscape in many places. We love the desert, no matter if it is sandy or rocky. The Red Canyon is a nearly 200 meter long canyon in the Wadi Sani, which you can explore on foot and for free. It is especially beautiful early in the morning or at sunset, when the rocks and boulders turn beautiful shades of red and orange.
---
ACCOMMODATION WANTED?
For your accommodation search we recommend the platform Booking.com*. We have been booking our accommodations here for many years and are always very satisfied with the offers and prices.

» Book your hotel here «
---
---
5. The vast Negev Desert
After the Red Canyon, the journey continues north. You will pass through the breathtaking and vast Negev Desert. You will drive through a barren stone desert with fertile oases and ancient sites. Here you will also find the Mitzpe Ramon crater, the largest erosion crater in the world. It has a depth of up to 400 meters, is 40 km long and in some places 2 to 10 km wide. This crater was formed about 220 million years ago. Mitzpe Ramon is a small town at the top of the crater. There are some really fascinating views from there.
---
---
6. The Sea of Galilee
The Sea of Galilee is located in the north of the country. It lies 212 meters below sea level, making it the lowest freshwater lake on earth. After the Dead Sea, the lake is even the second deepest standing body of water. In the north of the lake you will find many sites where Jesus ministered: Bethsaida, Capernaum, Tabgha or the Mount of Beatitudes.
---
LOOKING FOR A RENTAL CAR?
If you are looking for a cheap rental car, we recommend the site of Mietwagen Check*. There you will find a huge selection and great prices.

» BOOK YOUR RENTAL CAR «
---
---
7. The archaeological site Masada
One of must places to visit in Israel is the archaeological site called "Masada", which is perched on a peak plateau of the Judean Desert. High above the Dead Sea you have a fantastic view from the former palace fortress of King Herod. Very popular are the guided Masada tours at sunrise. The historical site itself awaits you with remains of the palace walls, Roman baths, mosaic floors, water cisterns and remains of a synagogue. You can hike to the top or take the cable car. The entrance fee without the cable car is currently around 8€. You can find more information here: Masada Israel.
Most popular tours to Masada:
---
8. En Gedi National Park
At the Dead Sea there is not only the bathing resort of En Bokek and the Massada Fortress, but also the En Gedi National Park. This reserve is like a green oasis in the middle of the desert. You will find a few waterfalls, natural pools and diverse plant species. There are several trails leading through the area. We hiked up and had a fantastic view of the Dead Sea and the surrounding area.
---
---
9. The Bahia Gardens of Haifa
North of Tel Aviv is the port city of Haifa with the so-called "Hanging Gardens", which are considered a symbol of peace and a place of tranquility. Thereby the beautiful terraces overcome a height difference of 250 meters, are more than a kilometer long and 400 meters wide. You can visit these gardens and take a walk around the complex. Several times a day there is a free tour (panoramic tour), which lasts about 50 minutes.
---
---
10. Timna Park
About 25 kilometers north of Eilat you can find the Timna Park. It was created ages ago and covers an area of about 60 square kilometers. Here you will find the typical desert vegetation, rugged cliffs and extraordinary rock formations. In summer, temperatures here reach over 45 degrees Celsius. At the entrance you will receive detailed information about the route through the park. You should plan at least 4 hours.
---
---
11. Israel National Trail
The Israel National Trail is a long-distance hiking trail with more then 1000 kilometers, comparable to the Way of St. James. National Geographic has chosen the trail among the 20 most epic hiking routes in the world. The trail is divided into 44 different stages. So you can also do partial hikes through the landscapes. The most suitable months are between October and May. In summer it can quickly become unbearably hot.
---
---
12. Overnight stay in a kibbutz
A kibbutz is a rural collective settlement with a society based on the principles of mutual aid and social justice. Here, people share work and property. "Everyone gives according to his means and receives according to his needs". Today there are over 270 kibbutzim in Israel with a total of 127,000 people, representing about 3% of the total population. Dozens of the kibbutzim offer overnight accommodations – from simple lodging to comfort resorts in the countryside.
---
13. Nazareth & Bethlehem
Bethlehem is the birthplace of Jesus and is one of the most popular destinations for devout Christians from all over the world. Of course, they especially like to visit the Church of the Nativity. In Nazareth the birth of Jesus was foretold to Mary. Therefore, this city is considered the hometown and father city of the founder of Christianity. The old town of Nazareth is very beautiful with all the small streets and alleys.
---
14. Trip to Jordan
Some tourists combine their stay in Israel with a trip to Jordan. The country is right next door and offers many great places to visit. For example, the famous rock city of Petra, which you can easily book as a day tour from Jerusalem or Eilat. But also tours of several days through the country are offered. We went to Jordan for a week and can only recommend this country to you!
---
---
---
We hope you enjoy this post. Feel free to leave a comment if you have any questions.
---
OUR COFFEE BOX
You like to be here on our site, have often used our tips and like our content, stories, pictures and videos? We have set up a small virtual coffee fund here, which you are welcome to fill. With this you support us and our work here on the blog. From the bottom of our hearts THANK YOU!

» SPEND A COFFEE «
---
Folge uns gerne auch auf unseren sozialen Kanälen, wie Facebook, Instagram, Pinterest oder Youtube. Auf diesen Plattformen nehmen wir dich mit auf unsere Reisen und versorgend ich mit tollen Bildern, Videos und Reisetipps. Wenn du uns eine Nachricht senden möchtest, uns am besten eine E-Mail.
In this post we use so-called "affiliate links" (advertising links). These direct you to products and services that we can recommend to you 100%. If you book/buy something through these links, we will receive a small commission as a thank you. You will not incur any additional costs. So we can continue to offer all our content, images and videos completely free of charge for you.